Roll over image to zoom in
Payment & Security
Your payment information is processed securely. We do not store credit card details nor have access to your credit card information.
Warranty Policy | Return Policy | Q&A | Products Manuals | Buying Guides

Explore a world of musical possibilities with 128 voices and 83 rhythms at your fingertips. From classic piano tones to vibrant strings, brass, and more, this keyboard offers a diverse range of high-quality sounds to suit any musical style or genre.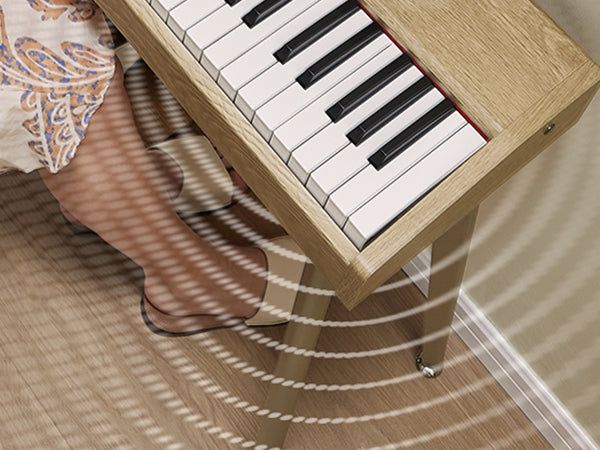 Immerse yourself in rich, dynamic sound thanks to the powerful 2x15W speakers. Whether you're playing soft melodies or energetic compositions, the audio quality will captivate your audience and bring your music to life.
The Donner 88 Key Digital Piano Electric Keyboard comes complete with the DDP-60 piano, which includes three piano-style pedals for added expression and control. It also includes a power supply and a sturdy stand, ensuring stability and convenience during your practice sessions or performances.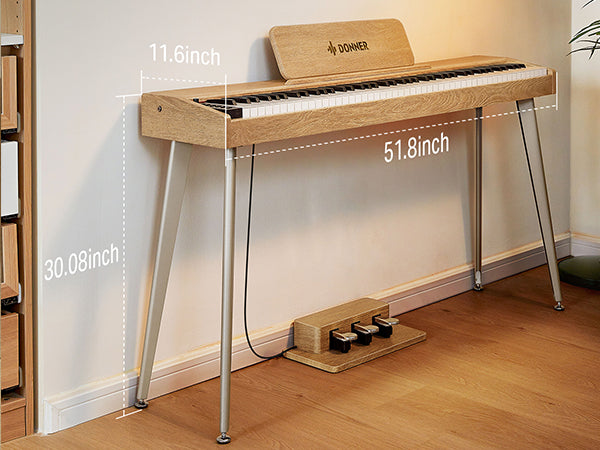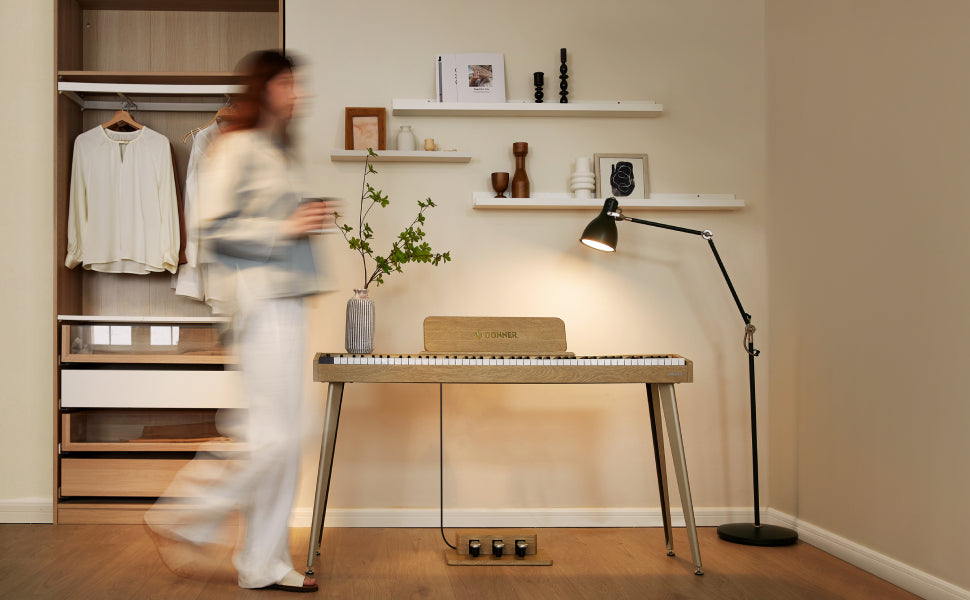 Product Size
51.8*11.6*30.08in
Keys
88-key Semi-weighted keyboard
Polyphonies (Max)
128
Tones
128
Metronomes Type
6
Power Socket
DC 12V 3A
Speaker output power
≥15Wx2
Double Keyboard
√
Split Timbre
√
Pedal Socket
√
Product Weight
27.7kg (61.1pound)
Touch Response
Off/Soft/Standard/Hard/Default
Rhythms
83
Demo Songs
47
Metronomes Beat Speed
30~280
Headphone Socket
Support 6.35mm (1/4-inch)
Effects
Reverb
(8 types, switchable &adjustable)
Record Function
√
AUX OUT Socket
√
USB-MIDI Socket
√
【Semi Weighted 88 Keys Keyboard】The DDP-60 88-key keyboard features 4 levels of intensity sensing, providing precise control over tone and sound quality. The graded release of dynamic sound benefits beginners and enhances the playing experience.
【Discover your sound with many tone options】The DDP-60 is loaded with features including 128 plural, 83 rhythms, 47 demos, 128 timbres, and 4 reverb effects. Beginners can explore various sounds and styles while practicing with the multi-timbral and multi-effects capabilities, inspiring creativity. The built-in 15w dual-speaker amplifier delivers a powerful sound experience, maintaining sound quality at all volumes. Whether you're a beginner or experienced musician, the DDP-60 is the perfect instrument to help you unlock your potential.
【Slim,Lightweight,More Charming】The DDP-60 keyboard features a compact overall size, with inward-facing legs that provide excellent visual feedback while taking up minimal space for easy storage. It's also lightweight and slim, making it easy to install in just a few simple steps. Whether you have limited space or simply want an instrument that's easy to move around, the DDP-60 is the perfect choice. With its convenient design and user-friendly features, it's the ideal instrument for anyone looking to take their musical journey to the next level.
【Natural Beauty: Solid Wood in Its Purest Form】The DDP-60 keyboard boasts a simple yet elegant design, with smooth and minimalist lines that integrate seamlessly into modern home decor. It emphasizes natural expression and brings a touch of natural texture to your living space. With its sleek and atmospheric appearance, the DDP-60 is not just a piano, but also a beautiful piece of art that adds a touch of elegance to your home. Whether you're a beginner or an experienced musician, the DDP-60 offers the perfect combination of functionality and aesthetic appeal. It's an instrument that you'll be proud to showcase in your home for years to come.
【Versatile Connectivity: USB-MIDI and More】The DDP-60 keyboard features a USB-MIDI interface, allowing for easy connection to music creation applications such as GarageBand. You can also connect to DAW software for internal recording tracks and take advantage of the AUX OUT interface for external sound systems. Whether you're a beginner or a professional musician, the DDP-60 provides the perfect combination of features for your music-making needs. It's a versatile instrument that adapts to your style and helps you create the sound you're looking for.
【Instruction manual】Donner ddp-60 piano.pdf








Model

DDP-60

DDP-80

DDP-80 PLUS

keyboard

Full Size 88 key

Full Size 88 Key

Full Size 88 Key

Weighted Type

Donner Semi-Weighted

Donner Hammer-Action II

Donner Hammer-Action II

Sound Resource

Dream5504

Dream5704

Dream5704

Number of Voice

128

1(Grand Piano Sound)

1(Grand Piano Sound)

Polyphony

128

128

128

Rhythms

83

/

/

Demo Songs

47

/

/

Reverb Effect

8 Types

/

/

Product Size


131.6 x 29.5 x 76.4cm



136 x 36.5 x 86cm

127.5 x 35.5 x 78.44cm

Product Weight


18.5 kg



24.4 kg

28.5kg

Speakers

15W x 2

≥20W x2

≥20W x2

Bluetooth MIDI

/

/

/

USB-MIDI

√

√

√

MIDI IN/OUT

√

√

√

MP3 Function

/

/

/

Metronome

√

/

/

LED Display

/

/

/

Headphone Jack

2 x 1/4"

1 x 1/4"

1 x 1/4"

Piano Cover

/

/

Semi-open Style

Other


Dual-Timbral, Keyboard Split, Tutorial, 

Smart Chord, INTRO/ENDING, 

Arrangement Volume Control, Octave, 

Transpose,

Audio Brightness Adjustment, 

Program Save, Recording,

Hall Effect, 

4 Velocity Curves,

Metronome, 

Tempo Adjustment, Keyboard Drum

/

Footrest Guard

Do you have the same material and color chair that is shown in the Youtube video?

Hello,

Thank you for your support of the Donner DDP-60 digital piano. However, at the moment, we do not have the same material and color of piano chair as shown in the YouTube video. We currently offer chairs in white and brown colors. If you have any other questions or need further assistance, please feel free to contact us.

Thank you!

Wouldn't there be an issue in a long term with dust with the keyboard if there is no dust cover??

Hello,

Thank you for your concern. Indeed, without a dust cover, there could be an accumulation of dust on the keyboard over time. To maintain the cleanliness and longevity of the digital piano keyboard, we recommend periodically using a soft cleaning cloth to gently wipe the surface of the keys. Additionally, when the piano is not in use, it's advisable to cover it with a dust cover or cloth to reduce the buildup of dust. This will help to preserve the keyboard's condition and extend its lifespan.

If you have any further questions or need additional advice, please feel free to contact us.

Thank you!