Roll over image to zoom in
Payment & Security
Your payment information is processed securely. We do not store credit card details nor have access to your credit card information.
Warranty Policy | Return Policy | Q&A | Products Manuals | Buying Guides

Related Videos: Eastar EP-10 Foldable Semi-Weighted Digital Piano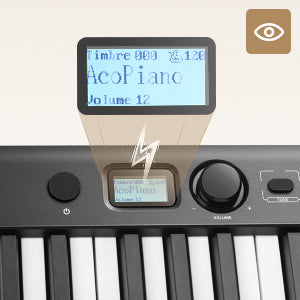 A clear and powerful LCD screen
The EP-10 is equipped with an LCD display that shows the status of the current functions, as well as the names of the timbres, demo songs, etc.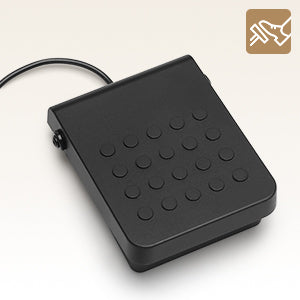 The sustain pedal
The set comes with a separate sustain pedal. When used together with the digital piano, the sustain pedal can enhance piano playing with richer sounds, allowing for a playing style that matches the music pieces.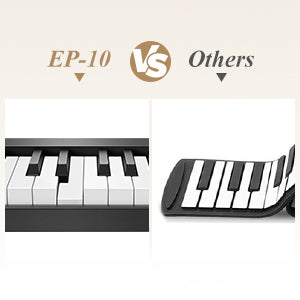 EP-10 Piano vs Handroll Piano:

Handroll Piano:
Prone to legato problems while playing.
No feedback when touching the keys, no sinking feeling of the keys.
EP-10 Piano: Offers finger touch and key depth similar to an electric piano.
Play without legato problems or lost notes, complete piano performance.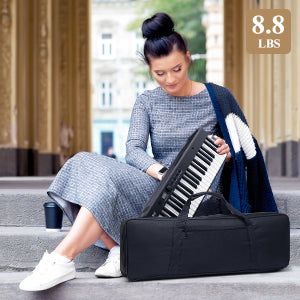 Small and portable foldable digital piano
Folds up and down with a single button. When folded, it is 24.8 inches long and weighs only 4 kg. The kit comes with an elegant piano bag, which helps you take the digital piano with you. This way, you can enjoy your music anytime and anywhere.
Support Multiple Facilities
MIDI Composition: Type C-MIDI & BT MIDI & BT Audio
Record & Play: Long press is record, short press is play
Learn Mode: One button to open the metronome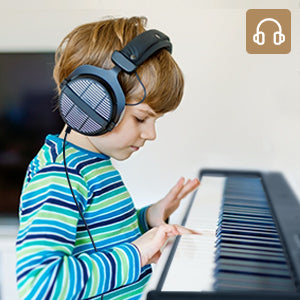 Practice without noise
The EP-10 features a function for silent practice. If you want to play in the middle of the night or maintain peace in the house, you can plug in headphones (3.5mm jack, which you need to purchase separately) to hear your piano playing.
Support Multiple Facilities
The digital piano has a rich interface, offering unlimited possibilities for music creation. The piano has a rich interface that offers unlimited possibilities for musical composition. It is the optimal home or outdoor electric piano, whether you are using it for rehearsal, performance, TikTok live, practice or music creation. The 88 key piano keyboard has a total of five external interfaces:


Sustain Pedal Interface (3.5mm)
MP3 Interface (3.5mm)
Microphone Interface (3.5mm)
Headphone jack (3.5mm)

Type C Charging Port
Customer or influencer review:
" I like that it charges so that I do not have to be next to an outlet to play – but was surprised that it is a USB plug and not a wall socket. But I suppose it doesn't matter as it is rechargeable. I am VERY happy that I got this."-Brenda
"I got this for my daughter's who have been wanting to play piano because their neighbor who is 8 years old plays piano and is quite good. The speaker is decent for practice, it doesn't get annoying loud band it also has a headphone jack which is great so that they can practice quietly. Very pleased with this keyboard works perfectly for our needs."-Rk
"I thought that there are many merits as a whole, such as abundant functions, ease to use, compact size, space-saving, and portability."-Vivi
Tech Specs: 
Eastar EP-10 Foldable Semi-Weighted Digital Piano
Keyboard type
88 Key Foldable Semi-Weighted Digital Piano
Polyphony
32
Trumpet
/
Display

LCD

Timbre
128
Rhythm

128

Demo song
20
Type

ABS plastic

Velocity Curve

F

orce 

s

witch

Package dimensions

70 x 27 x 18 cm

Weight
5.7kg
Accessories
1 X Folding Piano
1 X Sheet Music Stand
1 X Sustain Pedal
1 X Piano Bag
1 X Instruction Manual
Interface
1. Sustain Pedal Interface (3.5mm)
2. MP3 Interface (3.5mm)
3. Microphone Interface (3.5mm)
4. Headphone jack (3.5mm)
5. Type C Charging Port
Function
Dual keyboard,
Metronome,
Transposition,
Automatic chords,
Force switch,
Sustain,
Vibrato,
Keyboard drum,
Teaching function,
Bluetooth function
Product Manual
EP-10 Piano Manual.pdf
Educational Features
EP-10 piano has CHORD, TEMPO, PITCH, LEARN, etc., brings unlimited possibilities in music creation.