Roll over image to zoom in
Payment & Security
Your payment information is processed securely. We do not store credit card details nor have access to your credit card information.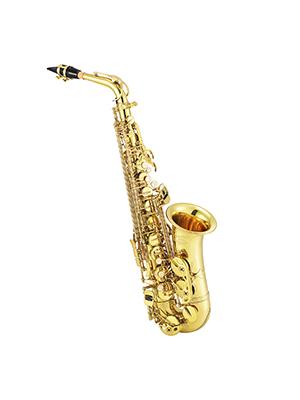 Eastar AS-¢ó Commander Wind Band Saxophone
E Flat/Golden Plated/Good Quality
The high tone is easy to control, low tone easy to penetrate, while middle tone is stable ,powerful.
Eastar AS-¢ó used instruments dedicated brass formain material.Lead-free welding craft which for the performance of the instrument while letting the players rest assured to use.
Eastar are using gold electrophoresis, color much brighter and brilliant.
Handmade carvings of the bell mouth made it a suit both refined and popular tastes craft when standing on the stand.
Voice£ºBetter vibration, tuning is wonderful
Keys: Super treble keys, right and left little finger keys are moderately elastic and easy to press.
Patent£ºSeveral patent designs are all for you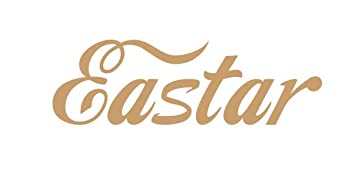 Eastar Would Never Disappoint You
Eastar is an excellent musical instrument design and manufacturing brand dedicated to primary and intermediate musicians.

Eastar's component serial number can control the product to a stable and high quality. There are also two quality inspections at the factory.

Eastar WINDBAND Series are so much different from the normal one.There's a lot of control over jazz, classical, pop.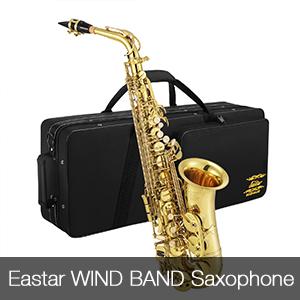 WIND BAND Saxophone
Eastar EAS-¢ó can satisfy the WIND BAND ensemble training and Studio Recording.
Its body is specially manufactured, and the whole body is composed of two parts. There is no welding joint in other places to ensure excellent tone color and vibration integrity. The feedback of keys is particularly good, and the keys can be easily played and switched for younger children. EAS - ¢ó is suitable for beginners or when they are transiting to middle-level saxophones.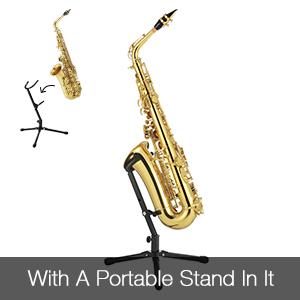 With Saxophone Stand
A Stand with three-level adjustment can not only be used as a portable saxophone stand for the alto saxophone, but also can be changed into a stand for the tenor saxophone by adjusting the bottom screws.
The stand can also be folded and carried when traveling or going out, which is very convenient.
The U - shaped mouth of the stand is deep enough that saxophone is placed on it very smoothly without shaking.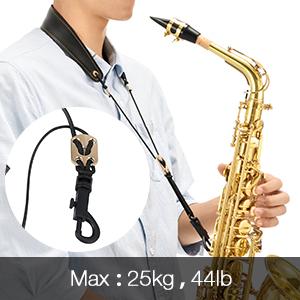 Soft Leather Saxophone Strap
There is a soft cloth wrap around the place where it contacts the neck, which can evenly distribute the pressure of saxophone's weight on the neck during the long-term performance. Let the player not feel very tired. and does not scratch the skin of the neck.The square adjusting button can easily adjust the length of the strap.

The longest effective length: 40CM;

Maximum bearing capacity: 25 KG.
QUESTIONS & ANSWERS
Have a Question?
Be the first to ask a question about this.
Ask a Question