When you're just starting out in the fascinating world of music, choosing the right instrument is a critical decision. While traditional acoustic pianos have their own charm, portable pianos can be a game-changer for beginners. Its excellent space efficiency, lower entry-level price and portability give novice pianists more possibilities for scene exploration.
In the world of music, portability and performance are two key aspects that can significantly enhance a musician's experience. Whether you're an experienced pianist looking for a versatile practice companion, or a beginner eager to embark on a melodic journey, the Donner Portable Piano may be just the harmonious solution you've been looking for.
In this article, we delve into the fascinating world of Donner portable pianos and compare two of the most popular pianos currently available: the Donner dep20 portable piano and the Eastar EP-10 portable piano to help future musicians make better choices. Products that suit you. The entire article will provide an in-depth analysis of the Donner DEP20 portable piano and Oriental Son EP-10 portable piano from aspects such as parameters, weight, product features, and applicable scenarios.
1. Parameters:
       - Donner DEP20: Donner DEP20 provides 88 fully weighted keys, which are closer to the strength of a real piano in feel. The 3 adjustable strengths give you a more realistic piano key playing experience. It also features a dual-speaker system with 128-voice polyphony for richer sound quality. The configuration of this speaker system allows it to be used in more scenarios, even in regular band practice.
       - Eastar EP-10: Eastar EP-10 is equipped with 88 semi-weighted full-size keyboards. In terms of feel, it is lighter and not as close to the feel of the original piano as dep20. If you are a musician who doesn't care about the feel, then this one is more cost-effective. It is equipped with a 32-note polyphony system and has 128 timbres. From an entry-level perspective, it can fully meet the needs of musicians.
2. Weight:
       - Donner DEP20: Weighing approximately 25 pounds (11.3 kg), the Donner DEP20 is relatively light and easy to transport. The package also comes with a power adapter *1, a pedal *1, and a manual *1, allowing novices to get started quickly.
       - Eastar EP-10: The Eastar EP-10 weighs about 20 pounds (9.1 kg) and is foldable. This product is aimed at players who pursue lightweight in the development stage. In terms of weight, it is also very good compared to the same type of Yamaha, making it a cost-effective choice.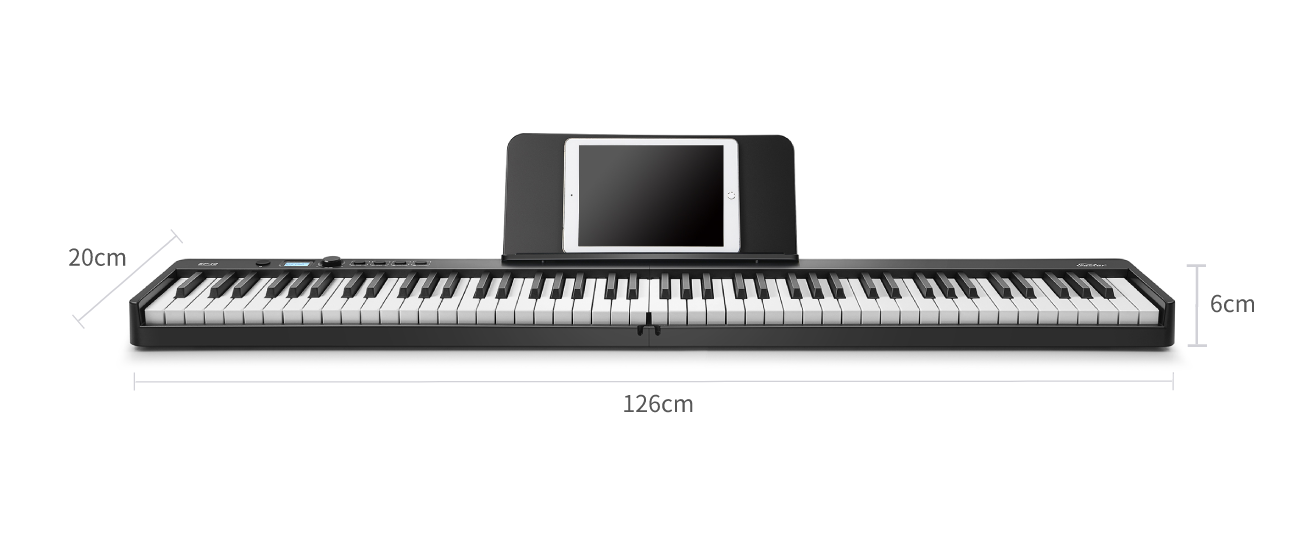 3. Product features:
       - Donner DEP20: The DEP20 features a variety of sound options, including 238 sounds, 128 accompaniment styles, and 100 built-in demo songs. It also has a MIDI interface for connecting and recording. This gives musicians more room to create.
       - Eastar EP-10: EP-10 offers 128 sounds and 100 rhythms as well as 20 demo songs. It has a USB connection for MIDI purposes and is compatible with music production software, which more than makes up for its lack of built-in sound quality.
4. Applicable scenarios:
       - Donner DEP20: The Donner DEP20 is a versatile choice for musicians of all skill levels. With its authentic piano feel and wide range of sounds and accompaniments, it's suitable for both beginners and experienced players. It can be used for practice, live performance and recording.
       - Eastar EP-10: The Eastar EP-10 is an excellent choice for beginners and those who need a portable piano for practice and simple playing. Its lightweight design and USB connectivity provide convenience for busy musicians. It is more suitable for indoor use scenarios.
To sum up, both Donner DEP20 and Eastar EP-10 have their own unique features and advantages. Donner DEP20 provides more advanced functions and a slightly more realistic gaming experience, making it suitable for a wider range of scenarios. The price is relatively mid-to-high, and it also has a vertical version with a shelf to choose from. The Eastar EP-10 is lighter and more portable. Folding is its biggest functional advantage. The price is also lower. It is a good choice for beginners and people who need a basic portable piano. Which one is suitable for you also needs to be considered from various perspectives such as budget and usage scenarios. Donner will try its best to provide you with a better experience.